2016 Click It or Ticket Enforcement Campaign Kick Off
Get a PDF of the press release here: Utah CIOT May 2016 Press Release
Get a PDF of the media alert here: Utah CIOT May 2016 Media Alert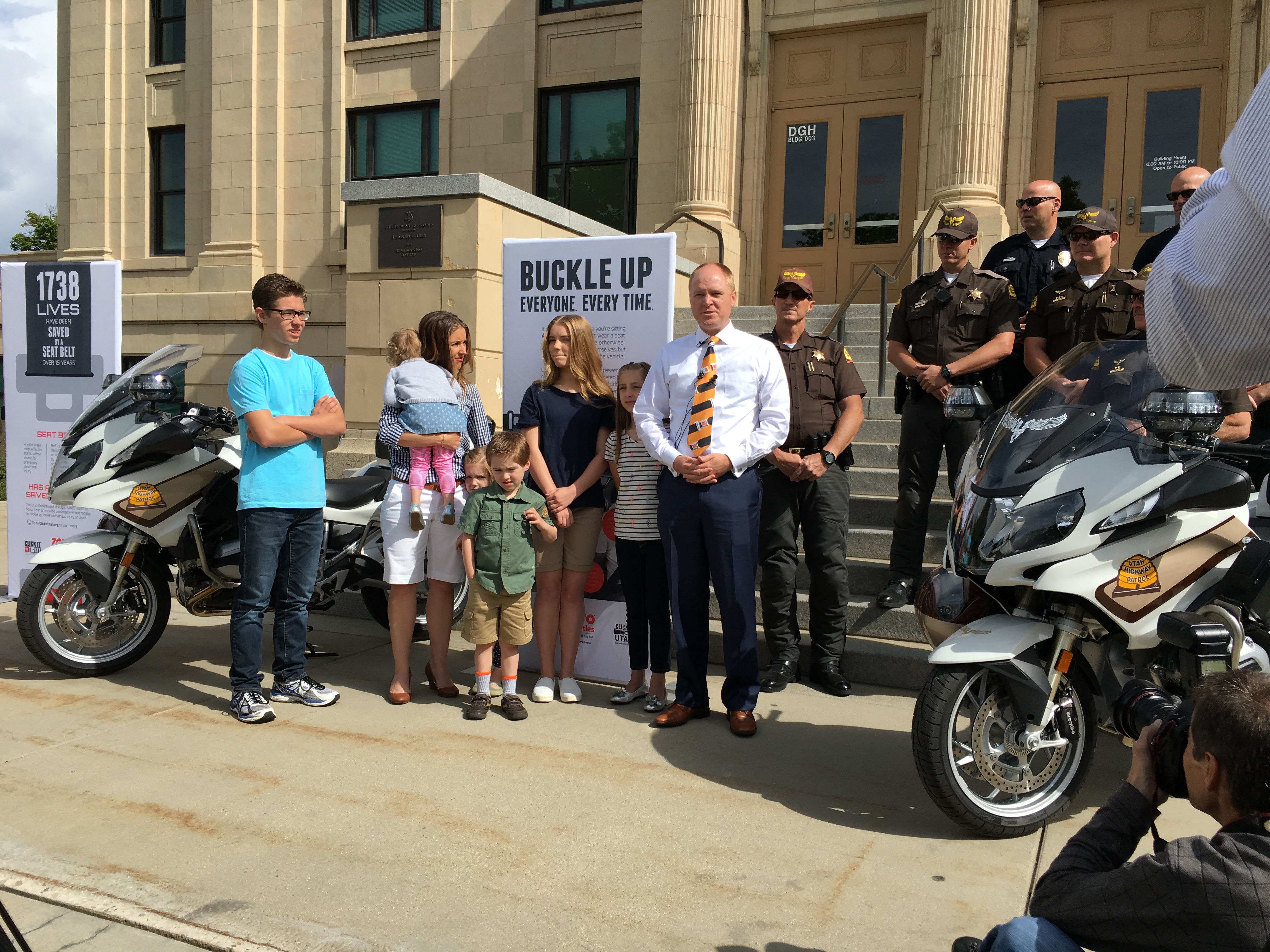 For Immediate Release:
14 Days, More than 1,000 Patrols — Click It or Ticket Enforcement Starts Today
Utah joins coast-to-coast enforcement held May 23 – June 5
SALT LAKE CITY (May 23, 2016) –  In the first two weeks of May there were 12 fatal crashes on Utah roads resulting in 15 deaths, 8 of those were unbuckled or improperly restrained. While 87 percent of Utahns buckle up, nearly 50 percent of fatal crashes are unbuckled. During the 2015 Click It or Ticket campaign troopers issued: 6180 warnings, 276 citations, 171 child restraint warnings,  totaling more than 6,600 contacts. Most importantly, increased patrols resulted in a decrease in unbuckled fatalities.
Officers throughout the state will be working more than 1,000 overtime shifts from May 23 – June 5 in a unified effort to save lives. Click It or Ticket ride alongs are available to media, upon request.
May 23 begins a two week increased seat belt enforcement period. Utah's Department of Public Safety (DPS) and National Highway Traffic Safety Administration (NHTSA) are joining forces with state troopers, police officers and sheriffs' deputies as part of the first ever coast-to-coast national Click It or Ticket effort to increase seat belt use and save lives on our roads. The enforcement period is strategically planned to begin right before the Memorial Day holiday, one of the busiest, and often deadliest, travel weekends of the year.
"Click It or Ticket isn't about writing tickets, it's about saving lives and protecting families," said Colonel Daniel Fuhr, Superintendent of the Utah Highway Patrol. "Our troopers take part in this enforcement campaign because they see the critical difference a seat belt can make in a crash. You double the chance of surviving a crash if you are buckled up."
"Making notifications to families is the worst part of our job – it's draining physically, emotionally and psychologically," said Sergeant Brent Shelby, Jr., Utah Highway Patrol. "The impact of a fatality from an unbuckled crash is long reaching and lasts a lifetime for the families and friends left behind and on the troopers handling the crash."
Last year 86 notifications were made by troopers to the homes of Utah families, parents, siblings to inform them that their loved one wouldn't be coming home. Those 86 notifications represent families and communities forever changed. Research states that nearly one third, if not more, of these lives could have been saved had a seat belt been worn.
Seat belts are life saving devices and the single most effective traffic safety device for preventing injury and death. Of the 1,000 people died on Utah's roads over the past five years, the most common contributing factor to a fatality was a failure to buckle up.
Wearing a seat belt helps a driver stay in the driver seat and helps maintain control of the vehicle.\

If you weigh 130 pounds and are traveling 60 mph, it would take 7,800 pounds of force to keep you from moving.
Unbuckled passengers increase the risk of killing or injuring other belted passengers by 40 percent.
Utah law states all passengers must wear seat belts and children up to age 8 must be properly restrained in a car or booster seat.

Failing to wear a seat belt is a primary violation.

First time violators receive a warning, any following violations receive a $45 dollar citation.

To further encourage seat belt use, violators who receive a citation will be offered the option to take a 30 minute online course in lieu of paying the fine. The course

is available through the Utah Safety Council at utahsafetycouncil.org and provides videos, stories and information on seat belt use.
"I encourage everyone to make this Click It or Ticket effort the one where they commitment to buckle up every trip, every time and to ask those around them to also buckle up. Don't let friends or family wait for a ticket or crash to learn their lesson," said Colonel Fuhr. "It may require sounding like a broken record before a loved one is in the habit of buckling up, but the effort is worth it."
For more information on seat belt use visit zerofatalities.com or clickitutah.org
Media Contact:
Marissa Villasenor
Utah Department of Public Safety
801-793-8025
mvillasenor@utah.gov