Crash Data and Statistics
---
If you have a press/media inquiry regarding our crash data, please contact Jason Mettmann at jmettmann@utah.gov
For Government Records Access and Management Act (GRAMA) requests: Visit our Public Records Center.
---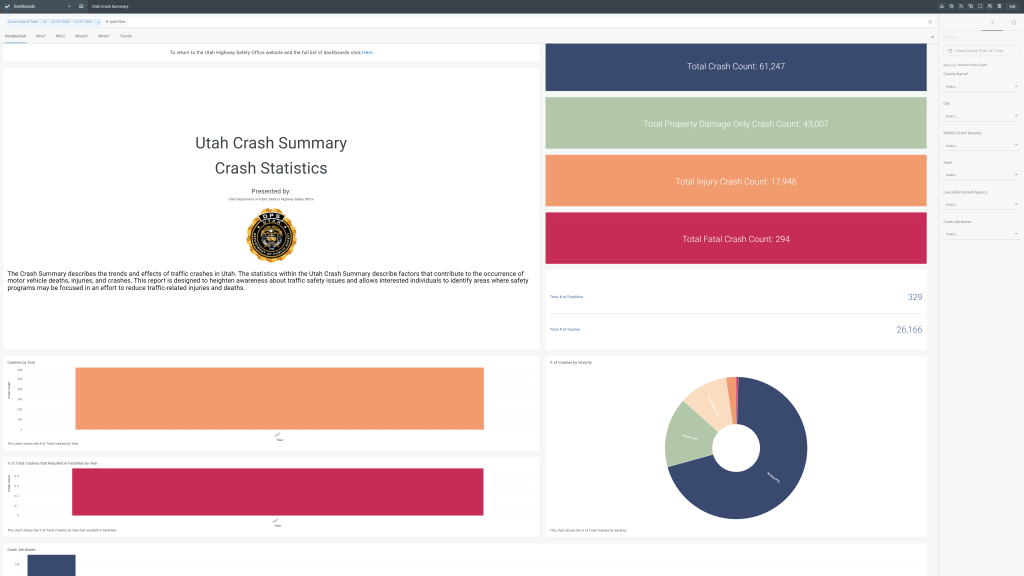 The Utah Highway Safety Office has created several dashboards to help visualize and share crash data with shareholders and the public.
---
Each of these dashboards focuses on specific traffic safety factors and provides users with detailed, filterable information regarding each emphasis area.
---
Find helpful workbook tips below!
---
---
Click the links below to query crash data within each dashboard.
Utah Crash Summary
The Utah Crash Summary identifies and describes the trends and effects of traffic crashes in Utah. The statistics within the Utah Crash Summary describe factors that contribute to the occurrence of crashes and crash-related injuries and fatalities.
Fatalities Data
The Fatality Data workbook shows factors involved in fatal motor vehicle crashes.
Do You Need Help Using The Dashboards?
Click here for a brief demonstration of how to use our data dashboards.

Additionally, we have a list of "Dashboard Navigation Tips" that may help you use the data filters.

If your organization needs help, dashboard navigation one-on-one training is available free of charge. Please contact Barbra Freeman at bafreeman@utah.gov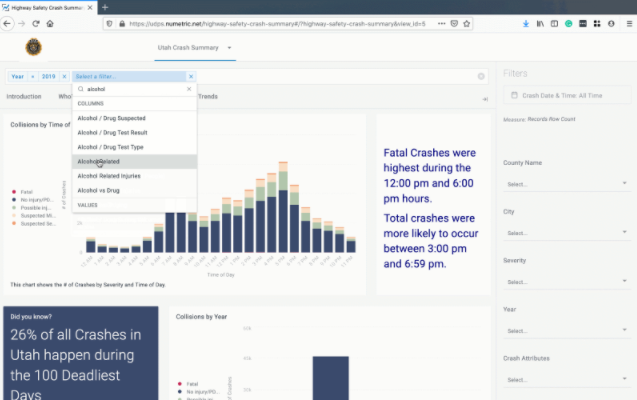 ---
Previous publications of the Crash Fact Sheets and Crash Summaries have been archived. Current crash data can be found through the online dashboards. Click the links below to visit the archived pages.
---
Where does the crash data come from? The data for the Utah Crash Summary is derived from Utah crash reports. Law enforcement officers complete these reports throughout the state who investigate crash scenes on public roadways. Information is collected when a crash involves injuries, deaths, or at least $2,500 in property damage. Crash reports are uploaded daily to the Utah Department of Public Safety data warehouse for central collection. Additional information is collected on fatal crashes at the Department of Public Safety's Highway Safety Office and compiled into the Fatality Analysis Reporting System (FARS) database. FARS is a national data system containing data on all fatal traffic crashes in the U.S.
---
For more information, please contact:
Barbra Freeman
Traffic Records Senior Program Manager
Utah Highway Safety Office
801-783-7250
bafreeman@utah.gov
MEDIA CONTACT:
Jason Mettmann
Communications Manager
Utah Highway Safety Office
801-664-7899
jmettmann@utah.gov