2016 Child Passenger Safety Week Check Points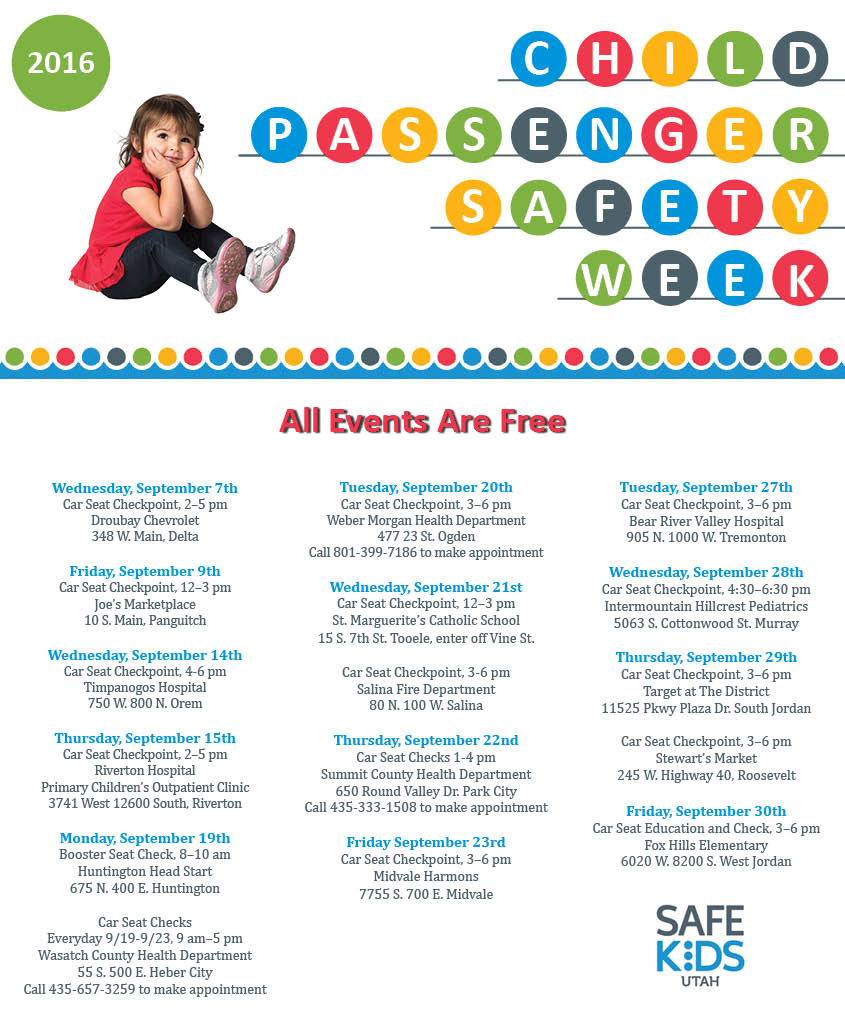 During 2016 CPS Week, there are free car seat checks scheduled throughout the state.
Get a PDF list of the events here: 2016 CPS Week Check Point Events or find one near you below.
Orem
Wednesday, September 14th 
Car Seat Checkpoint, 4-6 pm
Timpanogos Hospital
750 W. 800 N. Orem
---
Riverton
Thursday, September 15th 
Car Seat Checkpoint, 2–5 pm
Riverton Hospital
Primary Children's Outpatient Clinic
3741 West 12600 South, Riverton
---
Huntington
Monday, September 19th 
Booster Seat Check, 8–10 am
Huntington Head Start
675 N. 400 E. Huntington
---
Ogden 
Tuesday, September 20th 
Car Seat Checkpoint, 3–6 pm
Weber Morgan Health Department
477 23 St. Ogden
Call 801-399-7186 to make appointment
---
Tooele
Wednesday, September 21st 
Car Seat Checkpoint, 12–3 pm
St. Marguerite's Catholic School
15 S. 7th St. Tooele, enter off Vine St.
---
Salina
Wednesday, September 21st 
Car Seat Checkpoint, 3-6 pm
Salina Fire Department
80 N. 100 W. Salina
---
Park City 
Thursday, September 22nd 
Car Seat Checks 1-4 pm
Summit County Health Department
650 Round Valley Dr. Park City
Call 435-333-1508 to make appointment
---
Midvale
Friday September 23rd 
Car Seat Checkpoint, 3–6 pm
Midvale Harmons
7755 S. 700 E. Midvale
---
Tremonton
Tuesday, September 27th 
Car Seat Checkpoint, 3–6 pm
Bear River Valley Hospital
905 N. 1000 W. Tremonton
---
Murray
Wednesday, September 28th 
Car Seat Checkpoint, 4:30–6:30 pm
Intermountain Hillcrest Pediatrics
5063 S. Cottonwood St. Murray
---
South Jordan
Thursday, September 29th 
Car Seat Checkpoint, 3–6 pm
Target at The District
11525 Pkwy Plaza Dr. South Jordan
---
Roosevelt
Thursday, September 29th 
Car Seat Checkpoint, 3–6 pm
Stewart's Market
245 W. Highway 40, Roosevelt
---
West Jordan
Friday, September 30th 
Car Seat Education and Check, 3–6 pm
Fox Hills Elementary
6020 W. 8200 S. West Jordan
---
Heber
Car Seat Checks
Everyday 9/19-9/23, 9 am–5 pm 
Wasatch County Health Department
55 S. 500 E. Heber City
Call 435-657-3259 to make appointment
Tags:
car seat checks
,
car seats
,
child passenger safety week
,
CPS
,
utah car seat checks