EASY

UTAH'S ELIMINATING ALCOHOL SALES TO YOUTH ALCOHOL COMPLIANCE CHECK PROGRAM
The primary goal of the EASY program is to curtail the retail supply of alcohol to minors at off-premise retail locations through two complementary methods: providing funds to local law enforcement agencies to conduct alcohol compliance checks and requiring standardized and mandatory retail employee training.
EASY COMPLIANCE CHECKS BY THE NUMBERS
The EASY program started its 12th year in July 2017. With few exceptions, the compliance rate has seen small but steady increases each year.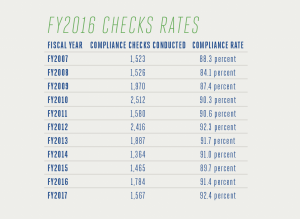 The Breakdown
FY2017 represented the EASY alcohol compliance check program's eleventh year. During the year, several agencies went through restructuring and, as a result, the EASY compliance checks were not as consistent as in past years. 20 percent of the 30 participating agencies only completed three compliance checks. Despite the number of checks remaining low at 1,567 retail compliance checks, FY2017 totals showed a slight increase in overall compliance (pass) rates, from 91.4 percent in FY2016 to 92.4 percent currently.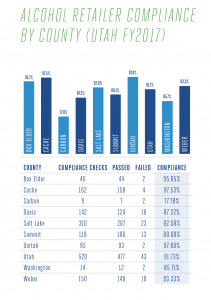 EASY RETAIL TRAINING
EASY requires anyone who sells or supervises the sale of beer to complete mandatory training. The Utah Division of Substance Abuse and Mental Health administers the training component of EASY.
For more information about the training click here. For a list of approved retail training providers click here.
PARENTS EMPOWERED PROGRAM

The retail supply of alcohol to minors – which EASY aims to curtail – is only a small source of alcohol for minors. The larger source is the social supply – when parents, other relatives or friends provide alcohol to minors.
Utah's Parents Empowered program targets the social supply of alcohol to minors by educating parents about the harms of alcohol use by youth and the skills to help keep their children alcohol free.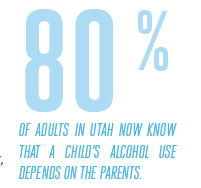 Utah's comprehensive approach to eliminating underage drinking is working – results from the Student Health and Risk Prevention survey show reductions in alcohol use among Utah students.
FOR MORE INFORMATION
EASY Alcohol Compliance Checks

EASY Retail Training

Utah's Alcohol Laws

Jill Sorensen

Utah Highway Safety Office

801-903-7078

Utah Division of Substance Abuse & Mental Health

801-538-3939

Utah Department of Alcoholic Beverage Control

801-977-6800