Speeding
Fast Facts
Think speeding isn't really a big deal? Everyone does it so it's okay? It has a way of catching up with you, and when it does, the price you pay can be more than just the cost of a ticket.
| | | |
| --- | --- | --- |
| 11,508 Crashes | 5,550 Injuries | 105 Deaths |
| | | |
| 11,508 crashes in Utah in 2016 were speed-related | Speed-related crashes resulted in 5,550 injuries in Utah in 2016 | Speed was a factor in 105 deaths in Utah in 2016; that is 38% of traffic-related deaths |
Get the Data
For more detailed information about speeding crashes in Utah, check out the 2016 Crash Fact Sheet for speed and 2016 Utah Crash Summary. Even more information is available on our Statistics page.
The Legal Lingo

Utah Code Title 41 Chapter 6a Section 401
"A person may not operate a vehicle at a speed greater than is reasonable and prudent under the existing conditions, giving regard to the actual and potential hazards then existing… Except as provided in Section 41-6a-604, any speed in excess of the limits provided in this section or established under Sections 41-6a-602 and 41-6a-603 is prima facie evidence that the speed is not reasonable or prudent and that it is unlawful."
Meaning: OBEY ALL POSTED SPEED LIMITS.
Meaning 2: IT'S A LIMIT, NOT A SUGGESTION.
Meaning 3: OBEY THE SIGN OR PAY THE FINE.

Too Fast for Conditions

There's another element to speed crash data and even speeding citations, and it involves situations in which even the posted speed limit is too fast. That's right — even the posted speed limit can be too fast. It comes into play from these words in the statute above: "…is reasonable and prudent under the existing conditions…"
When can the speed limit be too fast? During inclement weather, traffic or areas in which road work is happening are some of the main situations in which people can drive too fast for conditions. The statute calls on drivers to be reasonable and prudent and to pay attention to actual and potential hazards.
Inclement weather is one the situations in which a lot of drivers can be traveling too fast for conditions.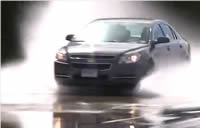 If the speed limit is 65, but the road is wet, snow-packed or icy, 65 may very well not be the safest speed at which to travel.
Most drivers know they need to slow down when it's snowy or icy, but many don't recognize that even when roads are just wet, speed can have a serious negative impact on their safety.
Click on the picture to the right to watch a Consumer Reports video about avoiding hydroplaning. Two key things: speed and tires! (Don't let them look anything like this!)
Effects of Speeding
The data above shows that speeding exacts a pricey toll in the form of crashes, injuries and deaths. No matter what kind of vehicle you're driving — car, SUV, truck, motorcycle or even a bicycle, speed affects you in many different ways.
FOR ALL VEHICLES, SPEED HAS THE FOLLOWING EFFECTS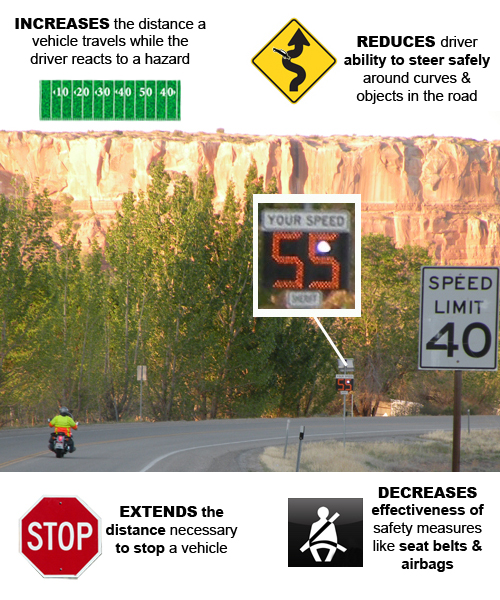 Faster More Likely Fatal
The fatal factors of speed are highlighted in this graph.
| | |
| --- | --- |
| A formal way to describe the effects of speed is to say the higher the speed the greater the amount of energy that must be absorbed in a crash, hence there is more chance of serious injury or death.A less formal way to describe the effects of speed is to say the faster you go, the harder you're going to hit something. The harder you hit something, the more damage it's going to do to your vehicle and more importantly you and your passengers and any other people involved.The force exerted on your body in just a 40 MPH crash is similar to what your body would be exposed to if you fell off a 5 story building. We can all visualize how badly the fall would work out for our bones, internal organs and brain, even if we had a seat belt and air bag.For every 10 MPH over 50 MPH, the risk of death in a crash is doubled. That might be something to think about when you're driving on those 80 MPH sections of the 15. | |
Speeding Prevention Campaign Materials
The National Highway Traffic Safety Administration has developed materials for speeding prevention campaigns that can be used free of charge.
There are two tool kits designed to provide you with marketing materials, earned media tools, and marketing ideas you can distribute to fit your local needs and objectives while partnering with other communities and organizations across the state on your speed management program. The resources available can be used in several capacities and are built on two message platforms:
Social Norming – Stop Speeding Before It Stops You.
Enforcement – Obey the Sign or Pay the Fine.Click on the logos below to visit the trafficsafetymarketing.gov site.