Speeding
Fast Facts
Speeding has a way of catching up with you; when it does, the price you pay can be more than just the cost of a ticket.
| | | |
| --- | --- | --- |
| 11,508 Crashes | 5,550 Injuries | 105 Deaths |
| | | |
| 11,508 crashes in Utah in 2016 were speed-related | Speed-related crashes resulted in 5,550 injuries in Utah in 2016 | Speed was a factor in 105 deaths in Utah in 2016; that is 38% of traffic-related deaths |
Get the Data
For more detailed information about speeding crashes in Utah, check out the 2016 Crash Fact Sheet for speed and 2016 Utah Crash Summary. Even more information is available on our Statistics page.
---
Speed is a leading contributing factor in fatal crashes and all crashes
Speeding endangers everyone on the road. Over the past five years in Utah there were 111 speed-related fatalities. Nationally in 2016, speeding killed 10,111 people, accounting for more than a quarter (27%) of all traffic fatalities that year. We all know the frustrations of modern life and juggling a busy schedule, but speed limits are put in place to protect all road users.
Speeding puts other innocent people on the road at risk.
Speeding is more than just breaking the law. Speeding endangers not only the life of the speeder, but all of the people on the road around them, including other motorists, pedestrians, bicyclists and law enforcement officers.
Consequences
The consequences of speeding are far-ranging:
Greater potential for loss of vehicle control

Reduced effectiveness of occupant protection equipment

Increased stopping distance after the driver perceives a danger

Increased degree of crash severity leading to more severe injuries
---
The Causes
Speeding is a type of aggressive driving behavior. Several factors have contributed to an overall rise in aggressive driving.
TRAFFIC  – Drivers may respond to traffic by using aggressive driving behaviors, including speeding, changing lanes frequently, or becoming angry at anyone who they believe impedes their progress.
RUNNING LATE – Some people drive aggressively because they have too much to do and are "running late" for work, school, their next meeting, lesson, soccer game, or another appointment.
ANONYMITY – A motor vehicle isolates the driver from the world. This can lead to some people feeling less constrained in their behavior.
DISREGARD FOR OTHERS AND FOR THE LAW – Sometimes people speed because that's just what they do, and have done "safely" time and time again without consequence.
---
Too Fast for Conditions
There's another element to speed crash data and even speeding citations, and it involves situations in which even the posted speed limit is too fast. That's right — even the posted speed limit can be too fast. It comes into play from these words in the statute above: "…is reasonable and prudent under the existing conditions…"
When can the speed limit be too fast? During inclement weather, traffic or areas in which road work is happening are some of the main situations in which people can drive too fast for conditions. The statute calls on drivers to be reasonable and prudent and to pay attention to actual and potential hazards.
Inclement weather is one the situations in which many drivers can travel too fast for conditions.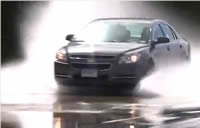 If the speed limit is 65, but the road is wet, snow-packed or icy, 65 may very well not be the safest speed at which to travel.
Most drivers know they need to slow down when it's snowy or icy, but many don't recognize that even when roads are just wet, speed can have a serious negative impact on their safety.
Click on the picture to the right to watch a Consumer Reports video about avoiding hydroplaning. Two key things: speed and tires! (Don't let them look anything like this!)
---
Speeding Prevention Campaign Materials
The National Highway Traffic Safety Administration has developed materials for speeding prevention campaigns that can be used free of charge.
There are two tool kits designed to provide you with marketing materials, earned media tools, and marketing ideas you can distribute to fit your local needs and objectives while partnering with other communities and organizations across the state on your speed management program. The resources available can be used in several capacities and are built on two message platforms:
Social Norming – Speeding Catches Up With You.
Enforcement – Speeding Slows You Down. Click on the logos below to visit the trafficsafetymarketing.gov site.