Yellow Dot
Utah's Yellow Dot Program
Citizens and First Responders Working Together to Save Lives 
Have you thought about what the immediate aftermath of a serious crash might be? Would you be conscious? Able to speak? Able to tell first responders what medications you're taking, any special medical considerations and who to contact?
These considerations and the importance of administering the most effective care as quickly as possible to crash victims led to the creation of the Yellow Dot Program.
It is designed to communicate critical information to first responders when crash victims might not be able to speak for themselves.
Utah started its Yellow Dot Program in January 2012.
Yellow Dot can be used in conjunction with the Vial of Life program.
How to participate in Yellow Dot
There are four simple steps to making the Yellow Dot program work for you.
You'll need three items: a picture, a Yellow Dot Information Form, and a Yellow Dot sticker. Complete one form per person for each person who regularly rides in each vehicle you own.
The University of Utah Health – Trauma Program has a website dedicated to information and resources regarding older adult drivers. Check out https://adultdrivingsafety.utah.edu/ to learn more.
Contact the program manager, Amy Winkler at amywinkler@utah.gov or 385-296-8809
yellowdot.utah.gov
The form is a fillable PDF.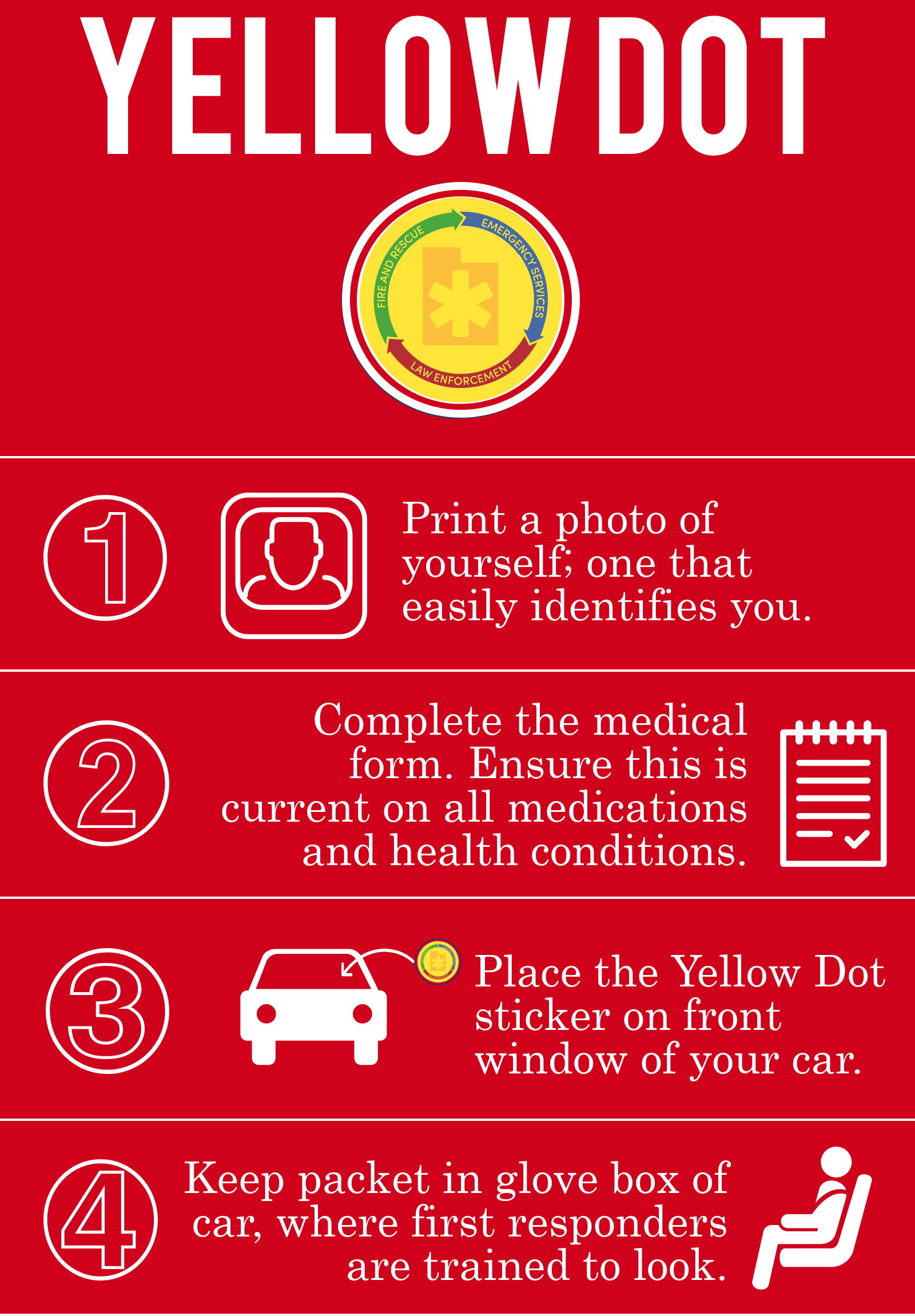 Locations to Pick Up Yellow Dot Packets
The stations below have everything you need to get started. Pick up your Yellow Dot stickers, photos, and packets at any of the following locations:
Salt Lake City Library Locations 
Salt Lake County Library Locations
To Request Materials or A Free Class Contact
Jamie Troyer, RN at 801-585-2991 jamie.troyer@hsc.utah.edu
Additional Contacts
For more information about Yellow Dot, please contact any of the following people:
Box Elder: Rhonda Merryweather 435-207-4570 rhonda.merryweather@imail.org
Salt Lake: Jamie Troyer 801-585-2991 jamie.troyer@hsc.utah.edu
Tooele: Kristen Bolinder 435-227-2454 kbolinder@tooelehealth.org
Wasatch: Jonelle Fitzgerald 435-657-3260 jfitzgerald@wasatch.utah.gov
Weber: Kathy Murdock 801-778-6615 k.murdock@co.weber.ut.us
Wendover: Fernando Reina 775-664-2081 fernando.reina@wendoverambulance.com