Bicycle Rodeo Program

BICYCLE SKILLS RODEO TRAILER PROGRAM
In conjunction with the Utah Emergency Medical Services for Children, the Highway Safety Office has two bicycle rodeo trailers that contain all the necessary equipment for conducting a bicycle rodeo. These trailers can be used by the public free of charge. To reserve the bicycle rodeo trailer or for more information on conducting a bicycle rodeo, contact the Highway Safety Office at 385-296-8809.
If you already have your own bicycles that you would like to use, you can just borrow cones and signs. Call the HSO at 801-965-4400 to make arrangements to pick up cones and signs.
What is a bicycle rodeo?
A bicycle rodeo is a clinic that teaches children the importance of riding a bicycle safely and what skills and precautions they need to develop to have a safe time on their bicycles.
What takes place at a bicycle rodeo?
Bicycle rodeos are designed for children 4-13 years of age. Each rodeo usually begins with a short lecture on bicycle safety and a safety check for both the rider and the bicycle. Bicycle rodeos also have some type of road course to teach children how to handle riding their bikes in real-life situations such as traffic lights, stop signs, pedestrians crossing the streets, and road intersections.
Why is it important to teach children how to ride bicycles safely?
Some adults may think that teaching bicycling skills is not necessary since they as kids never had any formal bicycle training. Today, however, roadways are a lot more crowded. There are increasingly more motor vehicles on the road which can make roadways very intimidating to bicyclists. It is important that bicyclists learn how to safely "drive" a bicycle. A bicycle is more than just a toy – it is a vehicle. Bicyclists can ride safely on the road but the rules of the road must be followed and safety skills learned.
TO RESERVE A BIKE RODEO TRAILER, YOU WILL NEED THE FOLLOWING:
Please complete the Trailer Reservation Form and Bicycle Rodeo Trailer Contract and fax it to 385-465-6038 or call 801-965-4400 for email contact. Once the reservation form is received your reservation can be finalized and an email will be sent back to you to confirm. Please indicate on the form when you will be picking up the trailer and returning it. Our office hours are Monday – Friday 8:00 a.m. – 5:00 p.m. Trailer pick up and return need to be done during business hours unless prior arrangements are made.
TRAILER PICK UP:
You will need to come inside the Highway Safety Office prior to hooking up the trailer. At this time, you can return the signed user agreement form and pick up 2 cans of spray chalk that are provided to mark the rodeo course. Also provided will be an event evaluation form that you will need to complete and return with the trailer.
We are located in the Calvin Rampton Public Safety Complex, at 4501 South 2700 West, Building 3, Second Floor, Taylorsville, UT, 84129.  Enter the north parking lot and pick up between the baseball diamond and the loading docks.
Google Maps to the Calvin Rampton Complex. 
Trailer Towing, Check Out & Return Information 2016
Inspection Use and Maintenance 2015
VEHICLE REQUIREMENT FOR TOWING THE TRAILERS:
The bike rodeo trailer is a large trailer and it is highly recommended that the individual towing the trailer have some previous experience with hooking up and towing a trailer.
The bike rodeo trailer is an 18′ enclosed cargo trailer and weighs approximately 4500 lbs. The trailer is equipped with electric trailer brakes.
The following are requirements for towing the trailers:
1/2 ton full wheelbase vehicle with sufficient factory rated towing ability.
Mid-size and larger SUVs with sufficient factory rated towing ability.
Class III  or IV trailer hitch with 2-inch receiver slot
The trailer comes with a 2" adjustable receiver with a 2 5/16" ball to pull the trailer.
 Round Seven-way slotted trailer plug
Recommendations for the towing vehicle:
Electronic trailer brake controller
Extended mirrors
TRAILER INSURANCE REQUIREMENTS:
In order to borrow the Bicycle Rodeo Trailer, the UHSO requires that the borrower possess general liability coverage for at least $1 million in personal and property liability. A Certificate of Liability Insurance, from the borrower's insurance company, will need to be provided to the UHSO. Please see Insurance Information for details.
TRAILER RETURN:
When you return the trailer, please park in the same spot that it was taken. Make sure to allow enough room between the trailers to open the side door. Don't park too close. Bring the event evaluation form inside the Highway Safety Office and give it to the staff. One of us will walk out to the trailer with you for a final inspection.
PLANNING FOR A SUCCESSFUL EVENT:
Allow about an hour to set up the bike rodeo course and plan for 8-10 volunteers to help you with the skills stations. See the bike rodeo packet for instructions and course layout. You will need to use the informed consent for minors form. Participants are required to sign the form and copies will be provided inside the trailer cabinet. It is recommended that you have a first aid kit at your event in case of an emergency.
This service is free of charge. We only ask that you return the trailer in the same condition (or better) than you found it in. Please make sure the bikes are secure in their proper places, cones neatly stacked, signs secured, helmets in the proper storage bins, and any garbage from your event disposed of. If there is anything that is in need of repair, please make a note on the event evaluation form so that we can take care of it prior to the next event.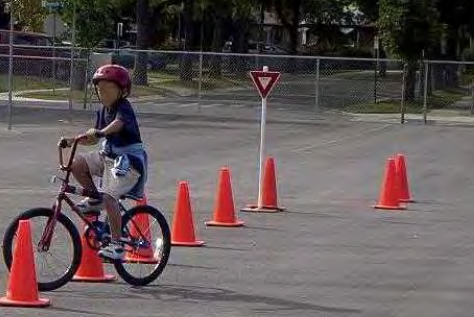 Bike Rodeo Documents
Contact the UHSO at 801-965-4400 for more information.