School Bus Safety
A Safe Ride
According to the National Highway Traffic Administration (NHTSA), school buses are the safest mode of transportation for getting children to and from school. School buses are designed to be safer than passenger vehicles in avoiding crashes and preventing injuries.
SCHOOL BUS SAFETY FEATURES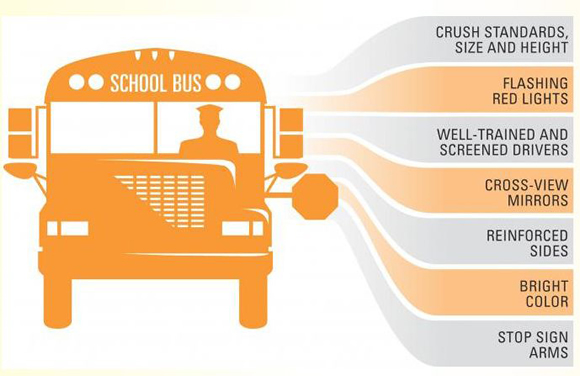 Why don't school buses have seat belts?
School buses are designed differently and use a different kind of safety restraint system.
Compartmentalization: NHTSA decided this concept is the best way to provide crash protection to passengers of large school buses. It provides a protective envelope consisting of strong, closely-spaced seats that have energy-absorbing seat backs. A relatable way to think about it is to compare it to an egg carton.
Large school buses are heavier and distribute crash forces differently than passenger vehicles, lessening the crash force occupants experience.
More detailed information is available here.
Driving Around School Buses
They're big, they're yellow, the newer ones have flashing strobe lights on them, and the times they're on the roads are fairly predictable – these are all some of the reasons why they're safe. There are also specific laws governing the way you can drive around them.

First of all, slow down.
Watch for children – they can come from all directions, especially if they're running late.
Yellow flashing lights mean the bus is preparing to stop, load or unload children. Drivers should slow down and prepare to stop.
Red flashing lights and extended stop arms mean the bus has stopped and that children are getting on or off. Drivers must STOP and WAIT until the red lights stop flashing, the extended stop arms are withdrawn and the bus begins moving again before they can continue driving.
When do drivers have to stop for school bus with flashing red lights & stop arms?
DRIVERS MUST STOP
On a two lane road when approaching from front or rear of bus
On a road with 3 or more lanes, with no median or physical barrier (i.e., just a double yellow line) when approaching from front or rear of bus
On a road with 3 or more lanes with a median or physical barrier when approaching from rear of bus (drivers approaching from the front of the bus may proceed)
On a road with 5 or more lanes and a center turn lane when approaching from the rear of the bus (drivers approaching from the front of the bus may proceed
"My Choice, Their Ride"
NHTSA worked with federal partners and the American School Bus Council (ASBC) to produce educational materials promoting the safety, environmental and economic benefits of increased school bus ridership.
The campaign, "My Choice, Their Ride" affirms that parents and caregivers who send their children to school on a yellow school bus are making the safest, most economic, and most environmentally friendly choice in transportation to get their child to and from school.
You can find and utilize materials from the campaign — including a media toolkit and some great infographics — here.
For more information contact:
Keri Fuhr
Occupant Protection Program Manager
801-243-7571
kfuhr@utah.gov